ACORN breaks apart in scandal's wake
New York and Los Angeles chapters of the ACORN advocacy group have rebranded themselves in efforts to shed a scandal-plagued image.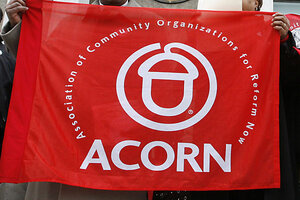 Newscom/File
After being shaken by a series of controversies that dried up much of its funding, ACORN (the Association of Community Organizations for Reform Now) may be dissolving.
An ACORN official told Politico that the group "has dissolved as a national structure of state organizations" because of "diminished resources, damage to the brand, unprecedented attacks."
But ACORN spokesman Kevin Whelan told The American Prospect that despite the group having lost some major chapters, it remains intact.
"It is not true that ACORN is closed for business all across the country. It still exists. Bertha Lewis is still the CEO," said Mr. Whelan.
ACORN became the center of a summertime scandal after two conservative activists videotaped some of the group's members offering advice on skirting tax laws and setting up a prostitution ring. Read Monitor coverage here.
The group tried to deflect the subsequent firestorm of criticism by firing some of the employees caught on tape and launching an internal investigation, but the damage that followed may prove too much for a group that conservatives have long charged uses tax dollars to advance a Democratic agenda.
---