Healthcare summit: Is Obama ready to tee up tort reform?
GOP's John Boehner calls Thursday's healthcare summit a 'charade.' But Obama hints he's ready to consider a Republican favorite: tort reform.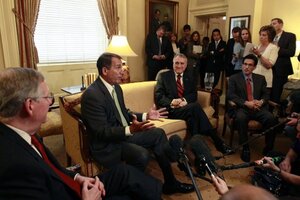 Harry Hamburg/AP
Expectations could not be lower heading into Thursday's bipartisan healthcare summit.
Republican leaders have pretty thoroughly disparaged the proposal President Obama unveiled on Monday, which, if nothing else, demonstrated that he has not given up on doing a big reform. The Republicans had been calling on Obama to start over, but instead he came out with a tweaked – and costlier – version of the Senate bill.
In addition, the Republicans have opted not to bring a unified GOP version of reform to the table. House Republicans are sticking with their longstanding proposal, and Senate Republicans are bringing their own, similar ideas.
Boehner: Healthcare summit a 'charade'
On Tuesday, House Republican leader John Boehner called the summit a "charade." (Linda Feldmann's report on GOP reaction to Obama's proposal.)
Perhaps, then, could this be Obama's cue to jump in and make something of the six-hour confab, televised live? With expectations so low, the exercise has nowhere to go but up. And so, some analysts expect Obama to offer the Republicans something from their wish list.
"The question is, what kind of give and take there will be at this meeting, serious give and take," says Peter Fenn, a Democratic strategist. "I would say that the likelihood that there might be several things that get put into the bill that Republicans suggest is fairly high."
As examples, Mr. Fenn suggests changes to the timing on when provisions start. There could be some fixes on the cost. And there could be some form of tort reform, or changes to the medical malpractice lawsuit system.
---