Healthcare summit ends: GOP scores, but both sides still far apart
Some areas of agreement emerged over the six hours of televised talks, but Obama's healthcare summit ended Thursday with slim prospects of bipartisan accord.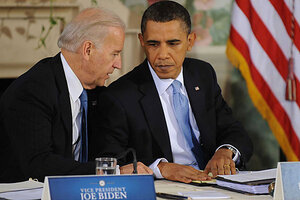 Newscom
The long-awaited healthcare summit is over. Republicans and Democrats aired their views, and some areas of agreement on specific issues emerged, but at the end of the day, deep philosophical differences on approach mean slim prospects for bipartisan accord.
At heart, President Obama and the Democrats are determined to proceed with comprehensive reform, and the Republicans prefer a step-by-step approach. One need look no further than the number of uninsured who would be covered by the respective plans to see the difference. The Senate Democrats' plan, which Mr. Obama largely has endorsed, would cover an additional 30 million Americans. The House Republican plan would add 3 million people to the healthcare rolls.
"Baby steps don't get you to the place you want to go," Obama said at the end of six hours of televised talks. (For more Monitor coverage of the healthcare summit, see here and here.)
The president suggested that both parties spend the next few weeks trying to work out a compromise, but hinted at an alternative: switching gears and deploying the legislative technique known as reconciliation, which requires only 51 votes for passage, as opposed to the 60 votes needed in the Senate to break a filibuster.
---