Senate climate bill may drop cap and trade
A compromise climate bill being developed in the Senate may drop controversial cap and trade legislation passed by the House.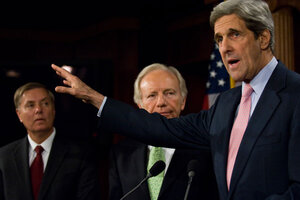 Scott J. Ferrell/Congressional Quarterly/Newscom
The last best hope to get a climate-energy bill through Congress this year may be to drop long-held "cap-and-trade" plans for an economy-wide price on carbon emissions and instead target just the utility, transportation, and industry sectors of the economy.
That scenario, now emerging in the Senate, set energy industry officials and environmental groups scrambling to evaluate how to deal with new legislation that's being developed behind closed doors and whose details are still unknown.
Broad outlines of the legislation – including a pullback from cap and trade – were reported over the weekend by The Washington Post. Details were in short supply as trial balloons floated and popped at the Capitol.
But even lacking details, several analysts say that such a move would be a broadly significant and dramatic shift away from the nationwide cap-and-trade climate-energy bill passed by the House of Representatives last June but tarred by opponents as a "cap-and-tax" bill.
Architects of the new bipartisan bill are Sens. John Kerry (D) of Massachusetts, Joe Lieberman (I) of Conn., and Lindsey Graham (R) of South Carolina. The latter was quoted over the weekend as saying in a private meeting that "cap and trade is dead."
---
Follow Stories Like This
Get the Monitor stories you care about delivered to your inbox.