John Rockefeller leads charge against EPA on greenhouse gases
Sen. John Rockefeller of West Viriginia, a major coal-producing state, wants Congress to shape regulations for greenhouse gases. He introduced legislation Thursday that would delay EPA plans.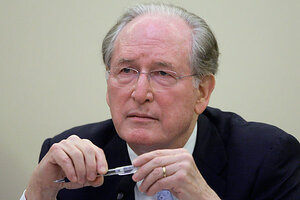 Haraz N. Ghanbari/AP
To the applause of coal workers and dismay of environmentalists, lawmakers in the Senate and House led by Sen. John Rockefeller (D) introduced legislation Thursday that would delay by two years any regulation of greenhouse gases by the EPA.
Sen. John Rockefeller warned last week that he might present a delaying measure. He is part of a growing chorus of lawmakers unhappy with the EPA for its plans to start curbing emissions as soon as next year.
Senator Rockefeller wants Congress, not the EPA, to shape regulations for carbon-based gases. His legislation could provide a window for Congress to take action.
Rockefeller is a senator for West Virginia, where the coal industry is a crucial part of the economy.
"Today, we took important action to safeguard jobs, the coal industry, and the entire economy as we move toward clean coal technology," Rockefeller said in a statement Thursday. "This legislation will issue a two year suspension on EPA regulation of greenhouse gases from stationary sources – giving Congress the time it needs to address an issue as complicated and expansive as our energy future."
The EPA's stand
In December, EPA Administrator Lisa Jackson announced that greenhouse gases had been determined by science to be a danger to the environment and human health. (Click here for an earlier Monitor story about this.)
---
Follow Stories Like This
Get the Monitor stories you care about delivered to your inbox.