Toyota recall flap: US lawmakers seek data on electronics tests
Questions continue about Toyota recalls for unintended acceleration. Two House members want the automaker to produce data backing up its assertion that defects in electronic components aren't part of the problem.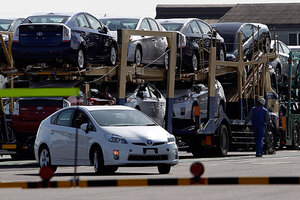 Toru Hanai/REUTERS
Two members of Congress requested greater transparency from beleaguered Toyota Corp. on Friday, calling for the automaker to release information about its testing of electronic components.
Reps. Henry Waxman (D) of California and Bart Stupak (D) of Michigan requested that Toyota provide evidence to back up the firm's statements that it is "confident" that electronic defects aren't contributing to instances of cars accelerating against drivers' wills.
The lawmakers' request comes as Toyota and federal investigators continue to seek answers to why the unintended acceleration can occur, sometimes resulting in fatal crashes.

"Some of these documents" released by Toyota so far "could be used in planning a rigorous study of potential causes of sudden unintended acceleration, [but] not one of them suggested that such a rigorous study had taken place," Representatives Waxman and Stupak wrote to James Lentz, president of Toyota Motor Sales, U.S.A.
Waxman chairs the House Energy and Commerce Committee, which has held recent hearings on Toyota's safety challenges. Stupak chairs the body's subcommittee on oversight.
---