GOP picks Bill Brady to challenge Illinois governor Quinn
Both incumbent Governor Pat Quinn and GOP candidate Illinois Sen. Bill Brady won their primary races by slim margins. The race to fill President Obama's former US Senate seat will be hard-fought as well.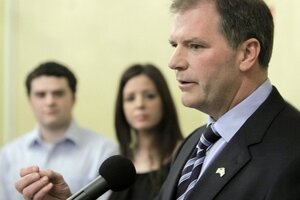 M. Spencer Green/AP
After a month of political wrangling, Illinois State Sen. Bill Brady was named the Republican challenger for the governor's office in the November election.
Mr. Brady faces incumbent Governor Pat Quinn, a Democrat, in a race that will likely reveal the political divide between downstate Illinois, traditionally a more conservative region of the state, and northern Illinois, dominated by the machine politics of Chicago. The race will also test the strength of the state Democratic Party in an election year in which it is particularly vulnerable.
Brady won his party's nomination by 193 votes, according to the state board of election Friday. He battled for the nomination with state Sen. Kirk Dillard, who lives in Hinsdale, a western suburb of Chicago. Dillard was considered to have more name recognition in Chicago, where most voters live.
The Illinois governor's race also includes Green Party candidate Rich Whitney of Carbondale.
---