Congress tries to alter Obama's plans for NASA
Upset over Obama's plans for NASA, two US lawmakers from Florida plan to introduce a bill that would keep the space shuttle launching through 2011 and throw a lifeline to the endangered moon exploration program Constellation.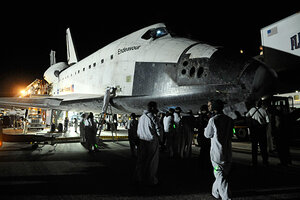 Bruce Weaver/AP
Pushback on President Obama's plans for NASA's human spaceflight program is moving out of testy congressional hearings and into Capitol Hill's legislative inbox.
Later this week, two Florida legislators are expected to introduce a bill designed to keep space shuttles launching through most of 2011, and to give NASA's endangered Constellation program an apparent reprieve. Constellation – two new rockets, a crew capsule, and hardware for a return to the moon by 2020 – is NASA's current approach to replacing the aging shuttle fleet, set for retirement at the end of September.
The bill, being circulated by Florida Reps. Suzanne Kosmas (D) and Bill Posey (R), is the House companion to similar legislation filed last week by Sen. Kay Bailey Hutchison (R) of Texas.
"When the shuttle retires, that leaves the US with no way into space," except by turning to Russia for seats on its Soyuz vehicles to ferry US astronauts to and from the International Space Station, says one congressional aide familiar with the bills. NASA's fiscal year 2011 budget proposal would undercut US leadership in space and in effect outsource jobs to Russia, he says.
---