Global warming doubts could hamper climate legislation
With more people expressing doubts about global warming, passing climate legislation in Congress will be more difficult.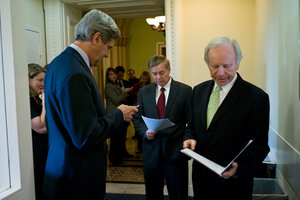 Scott J. Ferrell/Congressional Quarterly/Newscom
A recent poll suggests that high-profile controversies regarding climate science are weakening public confidence in the validity of global warming, And that could endanger congressional efforts to pass climate legislation.
In 2008, 71 percent of respondents said they thought global warming was happening, while 10 percent thought it wasn't. This year, only 57 percent thought global warming was a reality, and the number of doubters increased to 20 percent, according to a poll conducted by the Yale Project on Climate Change and the Center for Climate Change Communication at George Mason University in Fairfax, Va.
"We've seen some pretty significant changes over the past year," says Anthony Leiserowitz, director of the Yale Project on Climate Change. "We found a very significant drop in the percentage of Americans who think global warming is happening, and a significant drop in those who think humans are responsible. Generally speaking, we've seen a drop in public concern about the issue."
The poll also asked respondents whether they think global warming is caused by human activities, natural environmental changes, or both. In 2008, 57 percent said it was caused by human activities. This year, only 47 percent think so.
---