Obama stumps for healthcare reform
President Obama visits Philadelphia and St. Louis this week to try bolster public approval of health care reform.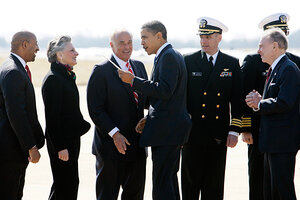 Charles Dharapak/AP
President Obama is pumping up the volume on his appeals for public support of US healthcare reform.
On Monday he will try to persuade voters to back his healthcare plan with a speech at Arcadia University in Philadelphia. On Wednesday he'll give a similar address in St. Louis.
"How much higher do premiums have to rise until we do something about it? How many more Americans have to lose their health insurance? When is the right time for health insurance reform," Mr. Obama will ask Monday in Philadelphia, according to excerpts from his prepared remarks released by the White House.
The administration knows that the fate of healthcare reform is hanging in the balance.
Right now, their strategy calls for the House to approve the health bill that has already passed the Senate. To make the legislation more palatable to wavering House Democrats, the Senate Democratic leadership would promise to move a bill of fixes to their original legislation.
---