To advance healthcare reform, Obama comes down on insurers
In his healthcare reform rally in Pennsylvania Monday, Obama vilified insurance companies for denying coverage and raising premiums. In defense, the insurance industry cites soaring costs.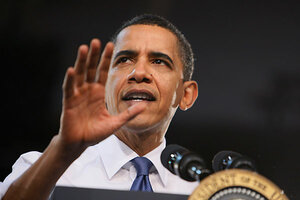 Charles Dharapak/AP
Don't shoot the messenger. That's the response of insurance industries to the latest broadside from the White House on the role of insurance policy hikes in soaring healthcare costs.

In a speech on Monday, President Obama charged that insurance companies have made a calculation that they can deny coverage for preexisting conditions, drop coverage when people need it most, and make big profits "as long as they can get away with it."

"Since there's so little competition in the insurance industry, they're OK with people being priced out of health insurance because they'll still make more by raising premiums on the customers they have," Mr. Obama said, during remarks at Arcadia University in Glenside, Pa.

In support of this view, the president cited a recent conference call with investors organized by Goldman Sachs that recommended buying insurance company stock because of the potential for big profits.

In a statement on Monday, House Speaker Nancy Pelosi also referenced the Goldman Sachs conference call. "In fact, Goldman Sachs is recommending that investors buy shares in two big insurance companies – the UnitedHealth Group and Cigna – because the potential for profit is high," Speaker Pelosi said.

In response, insurance companies say the cost of an insurance policy reflects the soaring costs of healthcare – costs they say the Obama White House is not reining in with its proposed healthcare reform.

"For every dollar spent on healthcare in America, less than one penny goes toward health plan profits," said Robert Zirkelbach, a spokesman for America's Health Insurance Plans, in a statement after Obama's remarks at Arcadia University. "The focus needs to be on the other 99 cents."
---
Follow Stories Like This
Get the Monitor stories you care about delivered to your inbox.