How to beat partisan politics? Ask your state government.
To avoid gridlock and partisan politics look to your state government. The states increasingly hold the power and influence over Washington in shaping American law – from safety to energy to social justice.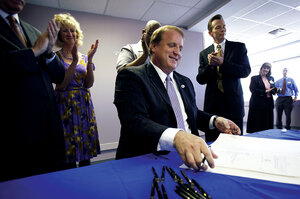 Charlie Neibergall/AP
Jack Hatch shook his head in frustration as he prepared to wade into yet another partisan brawl over healthcare. The Democratic Iowa state senator was co-chairing a 2007 special commission hearing on the subject in Mason City, and his GOP colleagues were carping about how an overly bureaucratic "Hillarycare"-style plan would be proposed for their state.
Senator Hatch was winding up to launch his own rebuttal, but before he took the bait, he noticed that Julie Kuhle, a respected pharmacist on the commission, wanted to speak, and he deferred to her.
That move, he says, made the difference between gridlock and the momentum that has put the state in the forefront of healthcare reform. The pitch of the group had tilted more toward partisan Washington Beltway politics than the small-town pragmatism Iowan lawmakers pride themselves on, and Ms. Kuhle was about to shame them for it.
"Is this the way senators talk to each other?" she asked exasperatedly. "I can't believe it! We're not here to talk about politics – we're here to talk about the problem of healthcare!"
The outburst, recalls Kuhle with obvious satisfaction, "just kind of shut people up." They started to listen.
That, she and others say, is what the smaller arena of statehouse politics allows – more listening and, as a result, more action. Indeed, agrees Hatch, "that was the defining moment. At that point it opened the floodgates, and all the stakeholders started to talk seriously."
---