'Let's Move': Michelle Obama takes on childhood obesity
First lady Michelle Obama has made childhood obesity her signature project with the 'Let's Move' campaign. Wednesday she takes the message to the national Parent Teacher Association at a National Legislative Conference in Arlington, Va.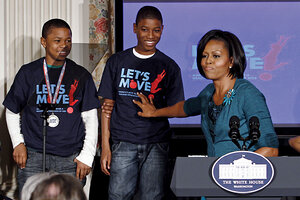 Kevin Lamarque/Reuters
Michelle Obama may be the first lady of the United States, but at Brinkley Middle School in Jackson, Miss., last week, most people simply referred to her as "Michelle."
Certainly that's how Mrs. Obama wants it. She has a message to impart, and if people feel comfortable with her, maybe it will get through: America's kids need to get active and lose weight to end childhood obesity.
One-third of American children are either overweight or obese, and with black and Hispanic children, the figure increases to one-half. Weight-related health issues are also on the rise, and Obama hopes that if children can develop a healthy lifestyle when they're young, they can avoid these problems both now and as adults.
After a year as first lady, Obama has thrown herself into her signature "Let's Move" antiobesity campaign, launched Feb. 9, with the verve of a candidate.
Wednesday Obama addresses the National Legislative Conference of the Parent Teacher Association. Her Let's Move campaign, which aims to end childhood obesity in one generation, will be the main topic.
She is reaching out to children, parents, governors, mayors, educators, school nutrition leaders, and food manufacturers. Her goal is ambitious: ending what she calls "the epidemic of childhood obesity" in a generation.
---