Republican governor as gay rights defender: a sign of the times?
Republican governor Bob McDonnell of Virginia, reversing his previous position, this week extended nondiscrimination protections to gay state workers. His emergence as a gay rights defender may signal that 'culture wars' issues loom less large within the GOP, as economic concerns rise.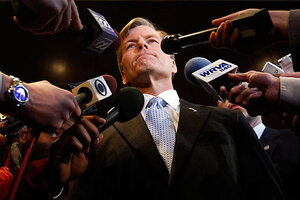 Bob Brown/Richmond Times-Dispatch/AP
Gov. Bob McDonnell (R) of Virginia said Wednesday that gay state workers would be included under nondiscrimination laws – a dramatic U-turn to his previous position and that one that may offer a curt warning to Republicans to steer clear of the culture wars heading into the November election.
By making that move, the governor "is now projecting the image of reasonableness and inclusiveness," says Larry Sabato, director of the University of Virginia's Center for Politics. "This is not going over with the hardcore right-wing elements in the party, but it is a necessity for governing and it tells you where our society has gone. McDonnell has recognized a reality."
During Governor McDonnell's 2009 campaign against Democrat Creigh Deeds, one topic of controversy was his 1989 graduate thesis paper, which outlined a vision of the family. The paper said, in part, that government policy should favor married couples over "cohabitators, homosexuals, or fornicators."
---
Follow Stories Like This
Get the Monitor stories you care about delivered to your inbox.