Scott Brown: champion of bipartisanship?
Republican Senator Scott Brown of Massachusetts has reached across the aisle in his first five weeks on the job. But his interest in dissolving gridlock doesn't extend to supporting the healthcare bill.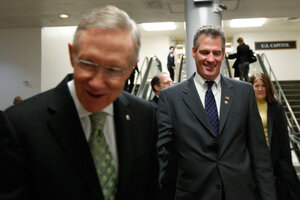 Manuel Balce Ceneta/AP
In the five weeks since being sworn in as the Senate's 41st Republican, Sen. Scott Brown (R) of Massachusetts has often sided with Democrats – and seen some reach across the aisle in return.
It's a sharp break from the culture of a highly partisan Senate, where gridlock is the new normal.
"We're seeing a good free flow of ideas," Senator Brown said on Wednesday, after voting with Democrats to end debate on a $140 billion package to extend tax breaks and benefits for jobless Americans. Then, he voted against the bill, which passed, 62 to 36.
"I'm not supporting the bill, but I do think the process needs to work better – and I hope my gestures do not go unnoticed," he said.
Indeed, they have not. In a rare move, four Democrats broke ranks to vote with Brown and all other Republicans on an amendment to move some $60 billion to taxpayers in a six-month payroll tax holiday – Brown's first legislative proposal. The measure failed, 44 to 56, on March 4.
"I think Senator Brown is showing he wants to work with us on bipartisan legislation much of the time," says Sen. Charles Schumer (D) of New York, who chairs the Democratic Senatorial Campaign Committee.
---