Healthcare reform 'fixes': What does the House want to change?
House Democrats are considering a package of 'fixes' to the Senate healthcare reform bill. Among the demands: lowering the cost of the bill and removing sweetheart deals for some states.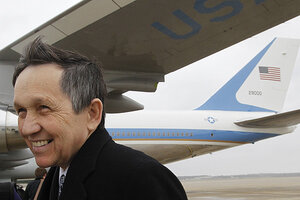 Charles Dharapak/AP
With Republicans on the sidelines, the endgame for healthcare reform is playing out within divided House Democratic ranks, where a decisive vote is expected as early as this week.
Since Senate Democrats lost their filibuster-proof majority with the election of Sen. Scott Brown (R) of Massachusetts, Democratic leaders have decided to try to pass the Senate's version in the House – in part to avoid the Senate's procedural hurdles as much as possible. The problem is, many in the House don't like the Senate bill and won't pass it.
The proposed solution has been a package of "fixes" to the Senate bill. It's not a perfect answer, because the Senate will also need to pass the fixes – and will need to resort to the controversial process of reconciliation to avoid a filibuster. But Democrats see it as the least worst option.
The drama now unfolding is how to rally 216 House Democrats to the fixes. In short, what does the House want to fix?
How much will it cost?
One essential element is cost. Undecided Democrats, especially fiscal conservatives, want to be sure that the legislation, with fixes, will cut federal budget deficits significantly over the next 20 years, as scored by the independent Congressional Budget Office.
"It is very important to us that this legislation be fiscally sound – that is, save $100 billion in the first 10 years and $1 trillion in the second 10 years," said House Speaker Nancy Pelosi at a briefing on Tuesday.
---