Healthcare reform vote: Which Democrats are most vulnerable?
Some Democrats in the House of Representatives worry that a 'yes' vote on healthcare reform could cost them reelection. But history suggests the dynamic isn't that simple.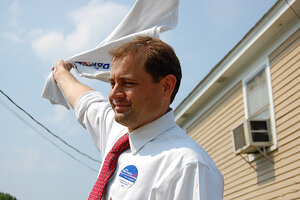 Rob Chaddock/Newscom
Remember Marjorie Margolies-Mezvinsky?
Anyone over a certain age who follows politics does. She was the first-term Democratic congresswoman from Pennsylvania who cast the decisive 218th House vote for President Clinton's budget reconciliation bill in 1993 – and then went on to lose reelection in 1994.
Today, as the Democrats work to lock down just enough votes to pass an unpopular healthcare reform bill, "MMM" isn't far from thought. No one wants to be the MMM of 2010. But there are several who could suffer that fate.
One obvious place to look is the 49 Democrats elected in 2008 from districts that voted for Republican John McCain for president. Most of them, in fact, are fine; either they don't face tough opponents in the fall or they are otherwise secure in their seats.
Ultimately, "we're talking about a relative handful of members whose careers could be ended by the healthcare vote," says Larry Sabato, a political scientist at the University of Virginia, Charlottesville.
What's happened in the past
But even a "no" vote on healthcare by a Democrat in a Republican-leaning district isn't a guarantee of reelection. Maybe he or she is likely to lose anyway, in a midterm cycle that typically punishes the president's party.
---