Obama signs jobs bill, but how much will it help?
The jobs bill will create 200,000 jobs at most, estimates at least one economist. Obama signed the jobs bill in a Rose Garden ceremony Thursday.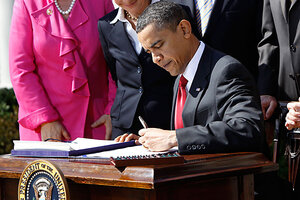 Charles Dharapak/AP
The $17.6 billion jobs bill that President Obama signed Thursday in a Rose Garden ceremony will have only a tiny impact on America's 9.7 percent unemployment rate, economists say.
The measure was signed in a sun-dappled ceremony with more than 40 House and Senate Democrats on hand to applaud. It exempts businesses from paying the 6.2 percent payroll tax on new employees who have been out of work for at least 60 days. And firms get an additional $1,000 credit if new hires stay on their payroll a full year.
The measure also injects funds into highway and transit programs.
"200,000 is my maximum estimate" for the number of jobs the legislation will create, says Timothy Bartik, senior economist at the nonpartisan W.E. Upjohn Institute for Employment Research in Kalamazoo, Mich. And the number will "probably [be] less than that," he says. An estimated 8.4 million jobs have been lost in the past two years or so.
Mr. Bartik cites two reasons the measure will have only a modest impact. "One, it is small. And two, it requires employers to jump through hoops, and complexity requirements will make it less attractive," he says. One of the hoops he refers to is the need to ensure a worker has been jobless for at least 60 days.
"The impact on hiring will be small," writes Augustine Faucher, director of macroeconomics for Moody's Economy.com. "Before business will really boost payrolls they need to be convinced that the recovery will strengthen."
---