Even before House vote on healthcare bill, legal challenges loom
Opponents of the healthcare bill are poised to challenge it over the House's likely use of the 'deem and pass' rule, as well as on the substance of the legislation itself.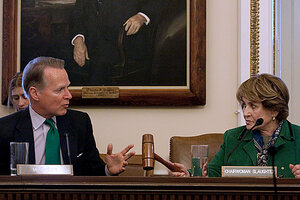 Harry Hamburg/AP
As congressional leaders and the White House push to attract the remaining votes needed to pass a healthcare reform measure this weekend, opponents are poised to take their fight to the courts, and potentially all the way to the US Supreme Court.
The mounting drama on Capitol Hill could extend far beyond the political, economic, and national policy implications of healthcare reform. It could set the stage for a major showdown over the meaning of a key constitutional provision.
The conservative Landmark Legal Foundation has already drafted a nine-page complaint set to be filed in US District Court in Washington within moments of passage of the measure. There will likely be others.
Republican lawmakers have pledged similar efforts to challenge the constitutionality of a legislative maneuver that would allow the House to adopt a Senate version of the bill without casting a specific vote on it. The so-called Slaughter rule, named for House Rules Committee Chair Louise Slaughter (D) of New York, is an attractive alternative for Democratic lawmakers who want to pass some version of healthcare reform but who worry about the potential political consequences.
---
Follow Stories Like This
Get the Monitor stories you care about delivered to your inbox.