Healthcare reform: Reaching finish line comes down to trust
Cutting deals to nail down votes is under way leading up to a House vote on healthcare reform. Trust that promises will be kept is key, but it's been eroding between House and Senate this session.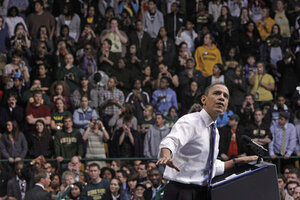 Jim Young/REUTERS
Finishing healthcare reform, in the end, will boil down to a matter of trust – both among Democrats and among the House, Senate, and White House.
Deals to nail down votes are flying thick and fast – or in many cases assumed to be, at least, since wheeling and dealing often take place behind closed doors. These are deals that do not show up in legislative language; they are gentlemen's and -women's agreements. Some may be merely implied.
Others appear to be explicit. Rep. Luis Gutierrez (D) of Illinois was a holdout on healthcare reform, until he met with President Obama and discussed immigration reform. Congresssman Gutierrez now supports the Senate healthcare plan that the House will vote on this weekend, even though it still would not allow illegal immigrants to purchase insurance with their own money through a new government-organized marketplace.
"After extensive discussions with the president, I believe we have a healthcare bill I can vote 'yes' for, and I believe we have a commitment to move forward on a comprehensive immigration reform package as soon as possible," Representative Gutierrez said in a statement Thursday.
The whole Congressional Hispanic Caucus, in fact, is now on board with healthcare reform.
Trustworthy deals?
---