After Obama signs health care reform bill, why mess with reconciliation?
House Democrats don't like the health care reform bill they passed Sunday. They only did it because the Senate promised it would 'fix' the bill. And that's where reconciliation comes in.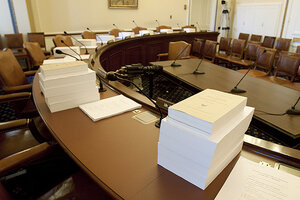 Harry Hamburg/AP
The White House signing ceremony is typically the climax of a reform drive – a time for to mark a historic achievement in a dignified setting.
But in the case of the historic health care reform bill that President Obama signs Tuesday, it's only a prelude to one of the most arcane spectacles that American politics has to offer.
Next on the to-do list is running a gauntlet of Senate precedents and rules to "fix" through the process called reconciliation the bill that Mr. Obama will sign.
It's a process almost certain to make Sunday's House debate look as though it was played out in fast-forward – a bacchanal of vote after vote, often running past midnight and occasionally into the morning hours.
In theory, none of it is needed.
Once Obama signs the bill Tuesday, it will be the law of the land, no matter what happens next. But few House Democrats like the bill Obama will sign into law. The fixes are the only way that Democratic leaders could get House Democrats to pass the bill Sunday, and Senate majority leader Harry Reid has vowed to push them through.
The catch is that Democrats no longer have a filibuster-proof majority, meaning that they'll have to pass the fixes on a simple majority vote – and that can only be done through reconciliation.
The long, slow slog of reconciliation
Reconciliation will require the fixes to be pulled apart and passed measure by measure, and by the rules of reconciliation each measure has to serve the purpose of cutting the federal budget. This process – pulling apart the bill, determining if each component qualifies according to the rules of reconciliation, and then passing them – could begin Wednesday.
---