Republicans' new health care reform bill rallying cry: Repeal it
Republicans couldn't stop Democrats from passing the health care reform bill Sunday. Now, they vow to make the bill – and big government spending – the core issue of the 2010 elections.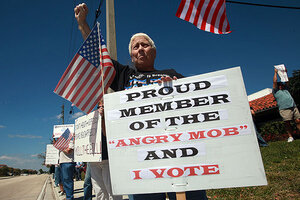 Bruce R. Bennett/The Palm Beach Post
Republican lawmakers and activists had no trouble segueing to their new mantra following the passage of health care reform: "Repeal it."
Sen. Jim DeMint of South Carolina is already set to introduce legislation repealing the legislation that President Obama will sign on Tuesday.
Sen. John McCain (R) of Arizona, caught in a tough GOP primary battle for reelection, is arguing in a fundraising appeal that he should stay in the Senate to lead the fight for repeal.
Former House Speaker Newt Gingrich e-mailed his supporters Monday with his take on the "corrupt health care reform bill," and solicited suggestions for how to repeal it.
"Repeal it" is a nice snappy slogan that fits on a bumper sticker. And in the short term, Republicans can make hay with the just-passed reform, especially during the immediate period before the benefits start to phase in, which is in six months.
"You have a window where they can try to raise doubts about what's about to happen," says Julian Zelizer, a professor of history and public affairs at Princeton University in New Jersey.
---