Funding gone, scandal-plagued ACORN to disband
Housing advocacy group ACORN alleged coordinated right wing attacks in announcing it will close its offices April 1.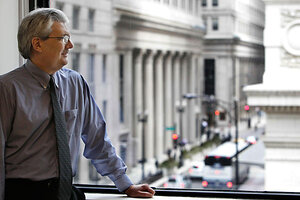 M. Spencer Green/AP
After being rocked by a series of high-profile scandals, ACORN (the Association of Community Organizations for Reform Now) is disbanding as its funding has vanished and debts have climbed. It is reportedly closing April 1.

The group, which was one of the longest running and most active community organizations focused on poor and working class families, became the center of controversy last summer when conservative activists secretly recorded ACORN employees appearing to give advice on skirting tax laws.
Before that, however, ACORN was the center of scandal over an embezzlement coverup and charges of voter fraud.
ACORN said in a statement released Monday, according to Reuters, that it has been the target of a "series of well-orchestrated, relentless, well-funded right wing attacks."
While no criminal charges followed the video sting on several ACORN offices, an independent inquiry said the episode was an example of ACORN falling short "of living its principles" and leaving itself "vulnerable to public embarrassment."
Criminal investigations in many states did follow the voter registration forgeries, in which some ACORN employees allegedly filed phony registration forms, for instance, with names like "Mickey Mouse." While many conservative politicians, including Arizona Sen. John McCain (R) during his presidential bid, attempted to portray the fraud as part of a broader political conspiracy, ACORN has said the incidents were merely the work of lazy voter registration workers.
---