Healthcare fixes move to Senate, reconciliation gridlock looms
Republicans aim to raise amendments and procedural motions, followed by votes that could go on for days during reconciliation. Democrats vow to pass the healthcare fixes unchanged.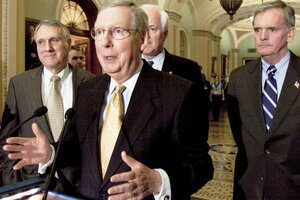 Harry Hamburg/AP
With historic healthcare reform now the law of the land, this week's marathon debate in the Senate over House healthcare "fixes" to that bill won't change the outcome. But it gives Republicans a last shot to target what they see as "fundamental flaws" in the law.
As recently as Monday, Republicans claimed they had found a "fatal flaw" in the package of fixes that would kill the effort to move it through reconciliation, where only a simple majority is needed for passage. But the Senate parliamentarian, in an advisory opinion on Monday evening, disagreed.
What's left to Republicans are opportunities to raise amendments and procedural motions over a 20 hour period, followed by back-to-back votes that can go on for days – or as long as Republicans can stay on the floor requesting them.
Healthcare 101: What the bill means to you
It sets the stage for a sort of mini-filibuster – days of politics to test the Democrats' fortitude as much as their grasp of parliamentary procedure.
"The [Senate] Democrats have committed to the House Democrats that they'll pass this bill that has even greater Medicare cuts, even greater tax increases, even more special deals," said Senate Republican leader Mitch McConnell. "We're going to treat it as a serious legislative exercise."
---