Health care reform bill 101: rules for preexisting conditions
The health care reform bill outlaws denial of insurance to those with preexisting conditions. But this change won't take full effect for years.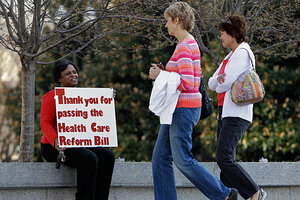 Mark Humphrey/AP
In America, people with health problems but no health insurance long have struggled to find and afford coverage. To those with such preexisting conditions, America's health system has seemed, at the least, capricious: Why has it been so hard to get insurance when you need it most?
Insurers have seen this same problem from another viewpoint. Selling coverage to someone with a preexisting condition might be a bit like selling auto insurance to a driver who wants help with an already-dented car. Insurance is meant to protect someone against future events, not pay for things that have already occurred.
Well, the healthcare reform bill signed into law Tuesday by President Obama will end this situation by outlawing denial of insurance coverage to those with preexisting conditions. It is one of the most popular individual provisions in the entire 2,000-plus-page legislation.
Healthcare 101: What the bill means to you
But this change won't take full effect for years.
The rollout starts with children. Six months from the day the bill was signed (let's see ... that'll be Sept. 23, by our calculation), insurers will no longer be able to exclude children with preexisting conditions from being covered by their family policy. For current policies, that means insurers will have to rescind preexisting-condition exclusions.
---