New health care bill facts: How will it affect the economy?
Among the new health care bill facts: The legislation will bring tax hikes, mainly on the highest-income Americans.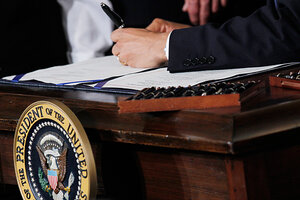 Charles Dharapak/AP
President Obama's victory on the new health care bill could provide a modest boost to the US job market starting this year.
But the legislation also means tax hikes, mainly on the highest-income Americans. And provisions designed to curb healthcare costs probably aren't strong enough to put a big dent in medical inflation – or federal budget deficits.
Those are some of the conclusions forecasters are drawing as they assess the facts and healthcare reform's impact on the economy.
"The most obvious quantifiable impact of the bill is an increase in taxes for upper income Americans, particularly on investment income," writes David Kelly, an economist and chief market strategist at J.P. Morgan Funds. More broadly, the law "will expand demand [for healthcare] without much effort to rein in costs."
Still, Mr. Kelly and others don't see the reform package as an economy-killer. In the near-term, its impact will be relatively small, since many core provisions won't be in place until 2014.
Here's a rundown of what may be the law's central economic impacts:
Jobs: A plus for now?
The job market could get an immediate but modest push forward. That's because the law will offer tax credits to small businesses that provide health insurance, reducing incremental labor costs by about 4 percent among those firms, according to an analysis by economist Alec Phillips at Goldman Sachs.
---