Healthcare reform's politics of anger: GOP fights back
Some Democrats have been attacked or threatened over passage of healthcare reform. Now, GOP leaders are fighting back against suggestions that their party is somehow responsible.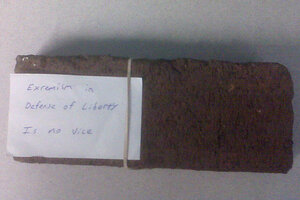 Monroe County Democratic Committee/AP
Republican leaders are fighting back against suggestions that the GOP is somehow responsible for attacks and threats against Democrats over passage of healthcare reform.
At a press conference Thursday, Rep. Eric Cantor (R) of Virginia, the No. 2 House Republican, said that he too had been attacked – and then accused Democrats of trying to exploit the actions against their members for political purposes.
"It is reckless to use these incidents as media vehicles for political gain," Representative Cantor said. "That is why I have deep concerns that some – [Democratic campaign] chairman Chris Van Hollen and [national Democratic] chairman Tim Kaine in particular – are dangerously fanning the flames by suggesting that these incidents be used as a political weapon."
Cantor also said that someone had shot a bullet through the window of his Richmond campaign office on Monday and that he had received threatening e-mails.
---
Follow Stories Like This
Get the Monitor stories you care about delivered to your inbox.