Senate Democrats beat back GOP alterations to healthcare 'fixes'
Senate Democrats prevail, so far, in keeping the package of healthcare 'fixes' intact. But the House will need to vote on it again to address small adjustments in the part dealing with student loans.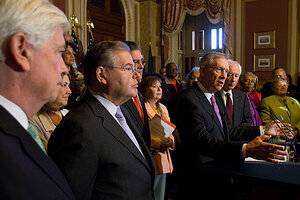 Harry Hamburg/AP
After nearly 9-1/2 hours of back-to-back votes that went until nearly 3 a.m., the Senate reconvenes Thursday morning to complete work on a House package of "fixes" to the sweeping healthcare reforms signed into law on Tuesday.
But anyone sleeping through the late-night action need not worry about missing something big. Some of the particularly tough votes are likely to be repackaged as campaign ads for fall midterm elections.
In a process dubbed vote-a-rama, the Senate voted down 29 Republican amendments to healthcare reform, on near-party-line votes. The votes, however, did put senators on record on issues ranging from tax hikes and back-room deals for certain states to gay marriage in the District of Columbia and whether to ban Medicare payments to cover Viagra for sex offenders.
Healthcare 101: What the bill means to you
Senate leaders had hoped to pass the package of House fixes without amendment, thus sending this carry-on bill straight to the Oval Office for the president's signature. That meant beating back all GOP amendments, including many that are popular with the public.
"I will oppose any amendment no matter how good that amendment may be," said Sen. Dianne Feinstein (D) of California, noting the importance of keeping the healthcare legislation intact.
'Fixes' package back to the House
---