Healthcare reform fallout: Which states are the winners?
States' Medicaid programs will have to grow dramatically to meet the demands of healthcare reform. Those states that have already started the process could come out ahead financially.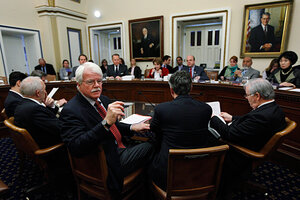 Manuel Balce Ceneta/AP
Under the nation's healthcare reform plan, the nation's Medicaid system will grow as one of the main organizations to implement the goal of expanded medical coverage.
But it appears that, from a financial standpoint, some states will be winners and some will be losers in this new arrangement.
Here's a look at why some states may stand to benefit. Later today, the Monitor will look at other states, which are complaining that it will cost their taxpayers a lot more money in the future.
The biggest winners, state officials and Medicaid experts say, could be those states that have already taken an important step toward expanding their own Medicaid programs: covering childless adults.
The reason for the coming windfall: These states are already paying for something that the new healthcare plan will soon mandate, and as the law's provisions begin to kick in, the federal government will actually pick up much of the burden that these states are now bearing.
The winners: 11 states plus D.C.
The 11 so-called "expansion states" states are: Arizona, Delaware, Hawaii, Maine, Massachusetts, Minnesota, New York, Pennsylvania, Vermont, Washington, and Wisconsin, plus the District of Columbia.
---