Healthcare reform 'fixes' pass, but is bipartisanship lost?
Other large social programs like Medicare and Social Security passed with strong bipartisan majorities, but healthcare reform and its package of 'fixes' lacked a single Republican vote. Republican leaders call the process used to pass healthcare reform a 'game-changer.'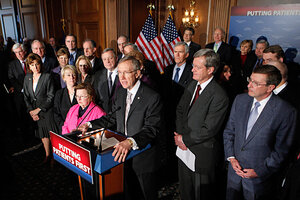 Haraz N. Ghanbari/AP
After a late-breaking glitch over 20 words, the package of "fixes" essential to win passage of a sweeping healthcare reform bill cleared the House and Senate on Thursday, promising access to healthcare to some 31 million now-uninsured Americans.
But lawmakers are just beginning to assess the cost of moving a vast new social entitlement without a single Republican vote – a first for the US Congress. Both Social Security and Medicare cleared Congress with big, bipartisan majorities.
Democrats say Americans will soon forget the go-it-alone process used to move this historic legislation as they come to know its benefits.
"Last year, a supermajority in the United States Senate passed the most crucial social, economic, and moral change in several generations. Just a couple of days ago, the president signed that into law. And today we made that law even better," said Senate majority leader Harry Reid at a briefing after the Senate vote.
---
Follow Stories Like This
Get the Monitor stories you care about delivered to your inbox.