Government employees feel the danger of anti-government anger
Anti-government infused threats against the IRS and gun violations on federal property are going up. Many government employees see the over-heated political debate these days as a personal danger.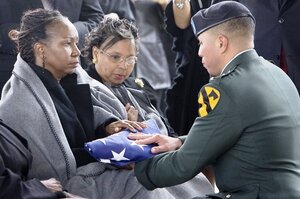 Ralph Barrera/Austin American-Statesman/AP
Sandy Ressler is worried. So much so that he felt compelled to headline his recent blog post on govloop.com this way: "I work for the government and I am NOT the enemy."
As a 25-year veteran of the federal bureaucracy – he's a program manager at the National Institute of Standards and Technology – he's concerned that the country "is becoming more and more polarized."
Mr. Ressler sees the recent suicide pilot who crashed his airplane into an IRS office building in Texas and the shooting attack on security officers at the Pentagon as "canary in the coal mine type of behavior." Along with many other government employees, he worries that anti-government rhetoric – fueled by the red-hot debate over healthcare reform, the virulent attacks on Barack Obama's personal character and legitimacy as president, and the more violent fringe of the "tea party" movement – puts government workers in the crosshairs.
Statistics back him up.
The threats are increasing
---