Obama hails 'real and major' reforms, but at what political cost?
In his weekly address, President Obama highlighted healthcare and college-loan legislation. But the new laws' partisan push by Democrats could come at a political price, the GOP hopes.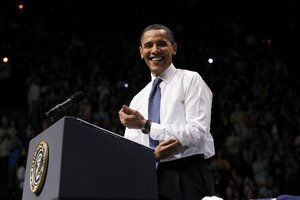 Charles Dharapak/AP
America just grew stronger, President Obama said in his weekly Saturday address, citing major Democratic victories on healthcare reform and a new law making it easier to get and repay college loans.

The victories cemented at least part of Obama's legacy, as he became the first US president to realize the long-time Democrat dream of near-universal healthcare coverage for Americans.
---