Auto emissions: New greenhouse gas caps raise gas mileage standards
The Obama administration set the first-ever greenhouse gas emission limits for US cars Thursday. To meet them, gas mileage standards must increase 40 percent to 35.5 miles per gallon.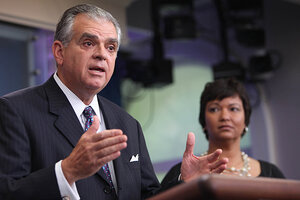 Newscom
The nation's first-ever law requiring a reduction in greenhouse gas emissions goes into effect today, mandating that automakers progressively chop the amount of tail-pipe gases emitted from US cars.
The first cars to be affected by the law will be automakers' 2012 lines. By 2016, model year greenhouse gas emissions must not exceed an average of 8.8 ounces per mile – a 21 percent reduction from today's levels. To get there, vehicles' gas mileage will need to achieve on average 35.5 miles per gallon fleetwide – a 40 percent improvement from current levels.
Costs to the industry for that four year period are projected to be about $52 billion – adding about $950 to the price of a car. But consumers should be able to save enough over three years to pay for the extra cost, said Transportation Secretary Ray LaHood and Environmental Protection Agency Administrator Lisa Jackson in a joint statement Thursday.
Overall, they said, the program would result in $240 billion in savings from reduced fuel costs, oil imports, and pollution.
"These historic new standards set ambitious, but achievable, fuel economy requirements for the automotive industry that will also encourage new and emerging technologies," said Transportation Secretary Ray LaHood in prepared remarks. "We will be helping American motorists save money at the pump, while putting less pollution in the air."
What the law will do
---