Obama's sporty day: He shoots. He pitches. He awaits NCAA finals.
On Monday Obama played basketball with kids. He threw out the ceremonial first pitch at the Nationals-Phillies game. Next up, the NCAA finals in men's basketball, which the president will 'absolutely' be watching.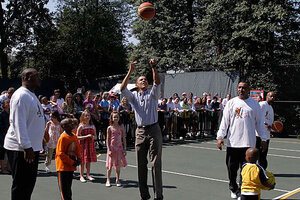 Jason Reed/Reuters
The Obama administration grappled Monday with the continuing anti-Western remarks by Afghan President Hamid Karzai, and looked ahead to the release Tuesday of its new nuclear strategy and the president's departure for Prague on Wednesday.
But on this Easter Monday, President Obama's day looked pretty sporty: shooting hoops with kids at the annual White House Easter Egg Roll, throwing out the first pitch at the Washington Nationals' opening day game, and catching the NCAA basketball finals on TV Monday night.
In a White House that's pushing hard to get kids to eat right and exercise, the Easter Egg Roll gave Mr. Obama a perfect opening for both messages. With about 25 children gathered around, Obama delivered an animated reading of Dr. Seuss's "Green Eggs and Ham," which of course is all about trying new foods.
IN PICTURES: Presidential first pitches
"When your parents tell you to eat your broccoli, you don't know whether you're going to like them or not. You've got to try it," Obama told the kids. "When your parents tell you to eat your peas, eat your peas."
---