Will the health care reform law last after 2010 election?
The health care reform bill received no support from the Republican party, and faces a battle for its life if the GOP gains a majority after the 2010 election.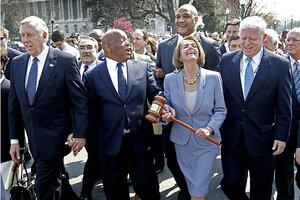 Charles Dharapak/AP
Can the new healthcare reform law survive?
President Obama and Democratic leaders in Congress rightly chalk it up as an epic legislative achievement. But their fight to sustain the new law through the 2010 and 2012 elections – before key features such as subsidies and the health insurance "exchanges" take effect – could be as daunting as passing it.
One reason: House and Senate Republicans, who uniformly rejected the healthcare package, may well remain opposed.
"We don't know a lot about what the long-term implications are of sustaining laws if they are passed on such partisan votes," says Eric Patashnik, professor of politics and public policy at the University of Virginia.
How the deed was done
Democrats upended conventional wisdom when they moved a major new social entitlement without a single Republican vote. The Social Security Act in 1935 and Medicare in 1965 passed with broad, bipartisan majorities. Call it a Senate mantra: No big bill moves unless it's bipartisan.
Moreover, Sen. Scott Brown (R) of Massachusetts campaigned and won the seat once held by Sen. Edward Kennedy (D) on a pledge to be the 41st vote against healthcare reform. That alone should have sunk chances for a final bill, but he never had the opportunity to cast that vote.
---