GOP marginalizing Michael Steele in run-up to midterm elections
The GOP is turning to party leaders other than Republican National Committee Chairman Michael Steele in an effort to raise money and resuscitate its image before the midterm elections.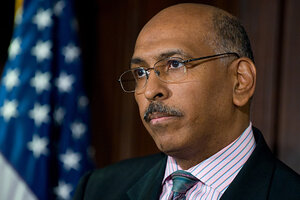 Newscom
The GOP can still score major gains in the fall elections, despite the recent embarrassments out of its national committee, party activists say.
But to achieve that, the party will rely heavily on skilled leaders outside of Republican National Committee (RNC) headquarters, where the rocky tenure of Chairman Michael Steele has posed a major distraction and raised concerns about fundraising.
Mississippi Gov. Haley Barbour, chairman of the Republican Governors Association and a former RNC chairman, frequently comes up as a party tactician seen as working effectively toward his goal: to get as many Republicans elected governor this fall as possible.
The GOP's House and Senate campaign committees are also working under favorable conditions, given the down economy, President Obama's sinking poll numbers, and abysmal job approvals of Democratic leaders in Congress.
At a 'Crossroads'?
---