Alaska governor's race: Candidates create distance from Sarah Palin
Voters are sizing up the field in the Alaska governor's race. Do they want a break from Sarah Palin's policies, or just her polarizing style?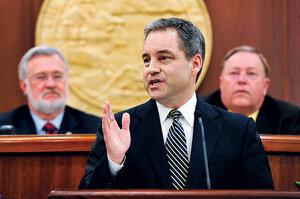 Chris Miller/AP
Sean Parnell, Sarah Palin's soft-spoken successor as Alaska's chief executive, is so famously deficient in charisma that he's been nicknamed "Captain Zero" and "the Oatmeal Governor."
For an Alaska governor these days, those nicknames might be considered compliments.
After two years in which Ms. Palin shot to a national ticket and international fame, abruptly resigned her office, and emerged as a wealthy but polarizing celebrity, Alaskans appear eager to embrace the boring in their politicians. What's unclear – and what this November's gubernatorial election will reveal – is whether voters want that change to come with a shift in substance, not just style.
Governor Parnell is seen as "bringing a calming presence to the state of Alaska," says Gerald McBeath, a University of Alaska political scientist.
Indeed, ahead of the August primary, Parnell is emphasizing his work-a-day public-service résumé. "As a person who served in the legislature – four years in the House, four years in the Senate, as a Senate Finance co-chair for two of those years – I know the process," he said on a recent radio call-in show. "I'm engaged in it, and I'll continue to be engaged."
---