Ben Bernanke: Time to shift from stimulus to federal deficit
Economic recovery has progressed far enough for policymakers to turn their attention from stimulus to reducing the federal deficit, Fed Chairman Ben Bernanke testified Wednesday.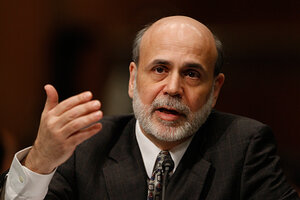 Pablo Martinez Monsivais/AP
It's a tipping point that Washington has talked about for a long time – and it's approaching fast, Federal Reserve Board Chairman Ben Bernanke indicated on Wednesday.
The point in question is the moment at which the recovery appears to have advanced far enough for policymakers to turn their attention to another crucial economic priority: deficit reduction.
A credible plan to reduce America's huge fiscal imbalance could boost economic confidence while reducing long-term interest rates, said Mr. Bernanke in testimony to the Joint Economic Committee of Congress.
"Addressing the country's fiscal problems will require difficult choices, but postponing them will only make them more difficult," he said.
Bernanke did not say what he thought those choices should be – or, more precisely, how the US should mix revenue increases and spending cuts. But his message was clear, according to Brian Bethune, chief US economist of HIS Global Insight.
'A serious long-term threat'
---