New Boston tea party: Sarah Palin leads defensive, defiant crowd
Sarah Palin headlined the Boston 'tea party' Wednesday, where the rallying cry was once again 'taxation without representation.' Attendees wanted to rein in politicians and combat the stereotype that tea partyers are radical and racist.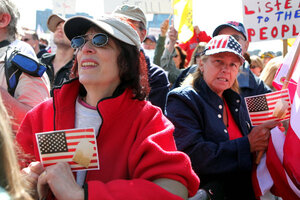 Melanie Stetson Freeman/The Christian Science Monitor
The symbolism of the last stop on the Tea Party Express tour was not lost on the crowd or on Sarah Palin Wednesday morning not far from the original site of the Boston Tea Party and the Boston Massacre.
"Boston, if anyone knows how to throw a tea party, it is you," she shouted to an enthusiastic crowd of several thousand.
For many of the several thousand who came, the event represents a fight for control of their destiny, as was the first Boston Tea party.
"We want to take back what's ours," said Karen Gareau, a dental hygienist from neighboring Rhode Island. "Politicians used to work for the people, now it seems we work for politicians. They're not even listening to us and yet we have to pay these taxes. It's taxation without representation."
It has nothing to do with being racist or an angry mob, as some critics have charged, said Scott Hennessey who works in law enforcement on Cape Cod. He took the day off with a friend from work and his friend's father. All three have served in the military in wartime.
"I'm not here because I'm angry, I'm here because I'm concerned," he emphasized.
---