Washington's tax day 'tea party': sun, slogans, and a ukulele
The tax day 'tea party' in Washington felt like a party indeed, with protesters almost joyful on a summery day where they accused administration officials of treason and rallied for GOOOH.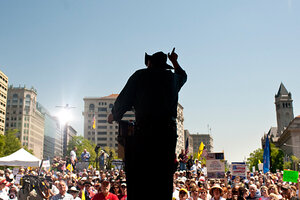 Newscom
"George Washington" was there, decked out in revolutionary garb and waving a stylized liberty tree flag with the motto "Appeal to Heaven."
Rep. Michele Bachmann (R) of Minnesota and Rep. Steve King (R) of Iowa, both "tea party" favorites from Congress, were there, revving up the crowd with fiery speeches.
Victoria Jackson, former cast member of "Saturday Night Live," played the ukulele and sang, "There's a communist living in the White House." (Watch it here.)
As some Americans scrambled to finish their IRS forms by the midnight tax day deadline, conservative tea party activists streamed into Washington – and to rallies around the country – to protest Obama administration policies, rising government spending, and what they see as threats to fundamental freedoms. In the nation's capital, the main show will be Thursday night, when protesters gather at the Washington Monument for a long-planned Tax Day protest.
---