Goldman Sachs SEC case: Is it all about politics?
The Goldman Sachs SEC case, filed Friday, comes as President Obama makes a push for Wall Street reform in Congress.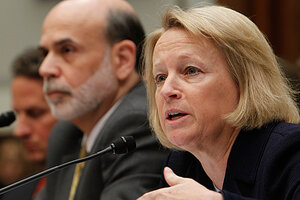 Charles Dharapak/AP
Republican lawmakers on Tuesday raised concerns that the lawsuit in the Goldman Sachs SEC case, filed on Friday, may be more about politics than securities law.
Whether or not that assertion is true, what's undeniable is that regulators have alleged fraud at Goldman just as President Obama is making what he hopes will be a final push to win passage of Wall Street reforms by Congress.
What's more, the Securities and Exchange Commission (SEC) filed the case only after a 3-to-2 partisan vote, with Republican commission members opposing the action.
"The events of the past five days have fueled legitimate suspicion on the part of the American people that the Commission has attempted to assist the White House, the Democratic Party, and Congressional Democrats by timing the suit to coincide with the Senate's consideration of financial regulatory legislation," Rep. Darrell Issa of California wrote in a letter Tuesday to SEC chairman Mary Schapiro.
Even as Republicans sought to raise doubts about the SEC, however, Goldman itself faced new pressure Tuesday. Britain's Financial Services Authority (FSA) said it has launched its own investigation into Goldman Sachs International, after Prime Minister Gordon Brown lamented Goldman's "moral bankruptcy" in a weekend interview.
---