Rahm Emanuel: Chicago mayor swagger, but local sway?
White House Chief of Staff Rahm Emanuel said Monday he would like to run for Chicago mayor if Richard M. Daley doesn't seek reelection. How would his Washington credentials and caustic style mesh with Chicago's political machine?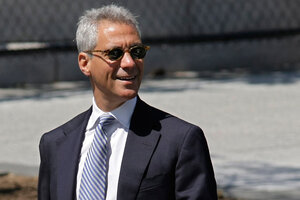 J. Scott Applewhite/AP
Rahm Emanuel announced on Charlie Rose's PBS show Monday that if Mayor Richard M. Daley decides not to run for a seventh term, he would like to take his place.
"That's always been an aspiration of mine, even when I was in the House of Representatives," he said according to a transcript.
Although the informal announcement was downplayed Tuesday by a White House spokesperson, it is already turning heads in Chicago, where political strategists say Mr. Emanuel's bulldog style and Washington credentials might not sit well with the city's deep-seated Democratic political machine.
A typical Chicago political career – especially one that leads to the mayor's office – starts from putting in long hours in neighborhood ward organizations and working your way to city hall, a path Emanuel largely bypassed.
---