The Charlie Crist conundrum: lots of choices, none of them good
Florida Gov. Charlie Crist was a rising star in the Republican Party. Now, he appears to have backed himself into a political corner in his bid to be a US senator.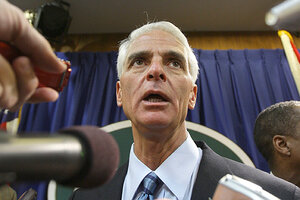 Phil Coale/AP
Florida Gov. Charlie Crist, once a rising Republican star with credible ambitions of national office, sits on the brink of political oblivion.
His centrist profile – crystallized by his now-infamous embrace of President Obama (and his economic stimulus plan) last November – made him ripe for a challenge from the right in his bid for Florida's open US Senate seat. Former state House speaker Marco Rubio – young, charismatic, and conservative – has executed his challenge nearly flawlessly, taking advantage of "tea party" movement energy and the backlash against Mr. Obama's policies.
In just a few months, Governor Crist has gone from a towering lead over Mr. Rubio in the primary to being 20 points down.
---