Arizona immigration bill: just the latest among state measures
The Arizona immigration bill, which the president called 'irresponsible' and 'misguided' on Friday, is one of many state initiatives introduced in the absence of strong national immigration reform.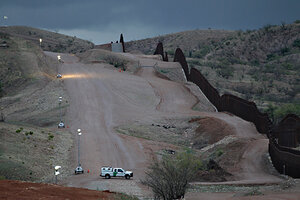 Matt York/AP
Whether or not they agree with President Obama's comments Friday the controversial Arizona immigration bill is "irresponsible" and "misguided," activists on both sides of the issue say that continued federal inaction may produce pressure for more state and local action.
Mr. Obama, speaking at a White House Rose Garden naturalization ceremony for 24 foreign-born members of the US military, said that continued inaction on federal immigration reform would "open the door to irresponsibility by others." The Arizona bill to which he referred would require police to check the residence status of those they suspect of being in the country illegally, something Obama said "threatened to undermine basic notions of fairness that we cherish as Americans."
In signing the bill Friday afternoon, Arizona Gov. Jan Brewer (R) called it "another tool for our state to use as we work to solve a crisis that we did not create, and which the federal government has refused to address," adding that the people of her state had been "more than patient in waiting for the federal government to act" on immigration reform.
Legislative activity at the state and local level has soared in recent years, according to Niels Frenzen, director of the Immigration Clinic of the Gould School of Law at the University of Southern California in Los Angeles. He points out that in 2007, 1,562 immigration-related bills were introduced by state policymakers across the United States, about three times the number introduced in 2006. Of the bills introduced in 2007, 240 were enacted. In the first half of 2008 alone, 1,267 bills were introduced and at least 175 signed into law.
---