Goldman Sachs on mortgage crisis: 'Serious money' to be made
New revelations in e-mails at Goldman Sachs show managers discussing profits to be made from the mortgage crisis. This comes just as Congress is to take up Wall Street reform legislation.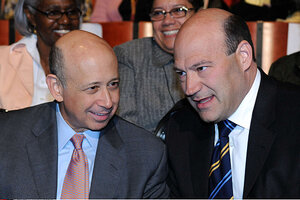 Newscom
The impetus for Wall Street reform may be escalating.
A Senate investigative panel Saturday released e-mails showing that Goldman Sachs executives discussed profiting from the subprime mortgage crisis in 2007.
"Sounds like we will make some serious money," one manager e-mailed. "Yes we are well positioned," his colleague responded, referring to the fact that the investment firm had bet against the mortgage market.
Such revelations are red meat to those on Capitol Hill pushing financial reform.
"Investment banks such as Goldman Sachs were not simply market-makers, they were self-interested promoters of risky and complicated financial schemes that helped trigger the crisis," said Senator Carl Levin, chairman of the Senate Permanent Subcommittee on Investigations, in a statement.
"They bundled toxic mortgages into complex financial instruments, got the credit rating agencies to label them as AAA securities, and sold them to investors, magnifying and spreading risk throughout the financial system, and all too often betting against the instruments they sold and profiting at the expense of their clients," said Sen. Levin.
Goldman Sachs officials are to appear before the investigative subcommittee Tuesday.
Lessons from Detroit
Meanwhile, as Republicans and Democrats maneuver toward Wall Street reform, President Obama says a look at Detroit is instructive – both as a caution and also as a guide to what government can do to help clean up an economic mess.
---