Goldman Sachs hearing pulls back curtain on bankers' ethics
During the Goldman Sachs hearing on Capitol Hill Tuesday, senators asked bankers why they did what they did – and the lawmakers didn't like the responses they got.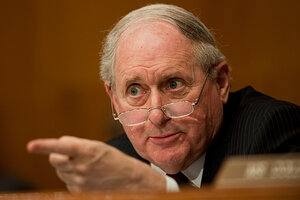 Newscom
Goldman Sachs officials defended their firm's role on Wall Street at a Senate hearing on Tuesday – but they faced tough questioning about their ethics from clearly skeptical lawmakers.
At times the hearing seemed like a clash of different world views. From the dais, senators of both parties asked a panel of current and former Goldman executives about their responsibilities to inform and guide clients. Behind the table, the investment bankers described themselves as a sort of high-level facilitation team, implementing trades that sophisticated investors had decided they wanted to make without Goldman advice.
Frustrated senators
At one point, Sen. Carl Levin (D) of Michigan, chairman of the investigations subcommittee holding the hearing, pressed a former top Goldman aide as to whether he should have sold a subprime mortgage investment so questionable that an internal company e-mail described it with a vulgarity.
"There are prices in the market at which people want to invest in things," said the official, Daniel Sparks, a former head of Goldman's mortgage department.
---