Will Obama commission on federal deficit mean a new tax?
At the first meeting of the bipartisan commission to tackle the federal deficit Tuesday, nothing was taken 'off the table' – not spending cuts, higher tax rates, or a 'value-added tax.'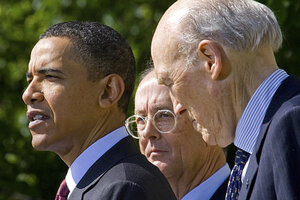 J. David Ake/AP
As his fiscal commission begins to considers ways to rein in the federal deficit in the future, President Obama says "everything has to be on the table."
That means considering things like unpopular spending cuts, higher tax rates, and even a new tax – the value-added tax or VAT – that many Americans have never heard of.
"[The recession] has aggravated an already severe fiscal crisis, brought on by decades of bad habits in Washington," Mr. Obama said as he ushered the bipartisan commission into its first meeting Tuesday.
The crisis isn't an immediate one. US Treasury bonds can still be issued at low interest rates and find plenty of buyers. But spending is on course to outpace revenues by a large margin in coming years, putting America's top-flight credit rating at risk.
A host of factors are causing high annual deficits. The big issue is entitlement spending, as Social Security and Medicare are poised to push government spending up as a share of the US economy in coming years. The recession is also a significant factor in the shorter term. "Emergency measures [to support the economy] have added about $1 trillion to the deficit over the next ten years," Obama said.
---