Utah uses eminent domain to seize land of ... Uncle Sam
A new eminent domain law in Utah authorizes seizure of some of the federal government's vast land holdings. It's designed to pick a fight with Uncle Sam.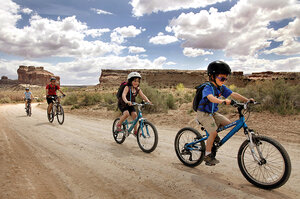 Tony Avelar/The Christian Science Monitor
Utah is itching for a land fight. A battle with Washington over territorial rights and state sovereignty. It wants to spark a revolt in which Western states attempt to wrest control of federal lands within their borders.
The Beehive State might just get its way, too. In March, Gov. Gary Herbert (R) signed a controversial law authorizing the use of eminent domain to capture some of the millions of acres that the federal government owns here. The law was tailor-made to provoke a lawsuit, possibly reaching the US Supreme Court, and to inspire other Western states to enact similar legislation.
While it's unusual for eminent domain to involve the taking of federal lands, this law is a byproduct of many Utahns' frustrations: The US government owns more than 60 percent of the state, thus dictating whether land has been set aside for preservation or can be accessed for mineral deposits.
IN PICTURES: The Future of Federal Land in Utah
The law also comes amid a wave of states' rights initiatives nationwide, which are challenging the federal government's authority on gun laws and President Obama's health-care reform.
---