National Day of Prayer is on, despite court ruling
President Obama has issued a National Day of Prayer proclamation but will not hold an interfaith observance at the White House, as President Bush did. The administration is appealing a ruling last month that the official day of prayer is unconstitutional.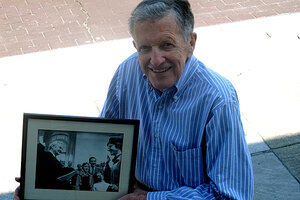 Ryan J. Foley/AP
Thursday, May 6, is the National Day of Prayer, as proclaimed by President Obama. But this year, the annual ritual that began in 1952 is taking place amid controversy.
Last month, a federal judge in Wisconsin ruled that the US law directing the president to proclaim such a day violates the First Amendment, which prohibits government establishment of religion. US District Judge Barbara Crabb also said it was OK to proceed with the National Day of Prayer, pending appeals.
On April 22, the Obama administration appealed Judge Crabb's ruling to the Seventh Circuit Court of Appeals in Chicago.
But, like last year, Mr. Obama himself will not hold any official prayer day observance at the White House. His predecessor, George W. Bush, had held an annual interfaith observance in the East Room of the White House.
---