'Tea party' clout: What was learned from Sen. Robert Bennett loss
The 'tea party' can claim a major victory with the ouster of Utah's three-term incumbent Sen. Robert Bennett. But Utah's primary rules are odd, meaning the truer test may come May 18 in Kentucky.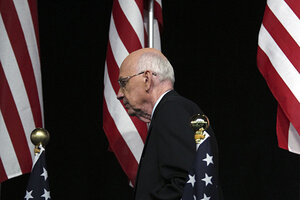 Steve C. Wilson/AP
The circumstances of ouster of three-term Sen. Robert Bennett in a Utah Republican convention Saturday suggest that any claims of a "tea party" revolution in the works for the 2010 midterm elections are, perhaps, still premature.
To be sure, the elimination of incumbent Senator Bennett in the race for the Republican nomination is the most concrete political accomplishment yet of the tea party movement, which opposed him. Moreover, Florida Gov. Charlie Crist's flight from the Republican Party – when faced with a near-certain primary defeat at the hands of the tea-party-backed Marco Rubio – shows that Republicans ignore the tea party at their peril.
But Utah, in particular, is a peculiar political proving ground. Primaries are decided, not by voters registered with each party, but by a convention of delegates. The 3,400 delegates who convened in Salt Lake City this weekend represented the purest of the pure, ideologically speaking – the leading conservatives of arguably the Union's most conservative state.
In other words, they are the Utahns most likely to be swayed by the tea party's call for strict fiscal conservatism and smaller government.
Bennett's missteps
---